| | | | |
| --- | --- | --- | --- |
| Hari Katha, Janmastami - Nodia, UP, India: 30th August - 5th September 2010 | | | |
Wednesday, 25 August 2010



http://www.purebhakti.com/events/upcoming-events-mainmenu-66/1166-hari-katha-janmastami-nodia-up-india-30th-august-5th-september-2010.html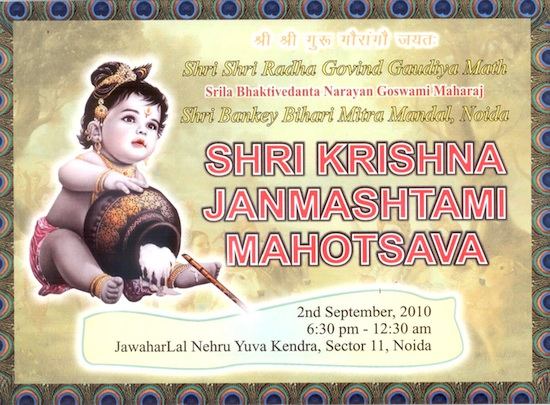 Sri Sri Guru Gaurangau Jayatah
By the causeless mercy of Srila Gurudev, Sri Sri Radha Govind Gaudiya Matha, Noida (India) is organising Srimad Bhagawat Katha by Sripad Rasanand Prabhu as per following program (at two locations):
Date: 30th August to 5th September 2010
Venue: Baraat Ghar, Sector 12, Noida, UP, India
Location on Google maps (click link)
Time: 5pm to 9pm (IST) followed by Dinner prasadam
At a separate location, a grand celebration of Sri Krishna Janmashtami is being organised. Every year this festival is attended by more than 30000 people.
Date: 2nd Septemper 2010 at
Venue: Jawahar Lal Nehru Yuva Kendra, Sector 11, Noida, UP, India
Time: from 6:30pm till midnight.
Location can be seen on Google maps
Aspiring to serve Hari, Guru and Vaishnavas
Anirudh Das
Sri Radha Govind Gaudiya Math
D-5, Sector 55, Noida, UP, India
phone: +91 9818536137, +91 9910400878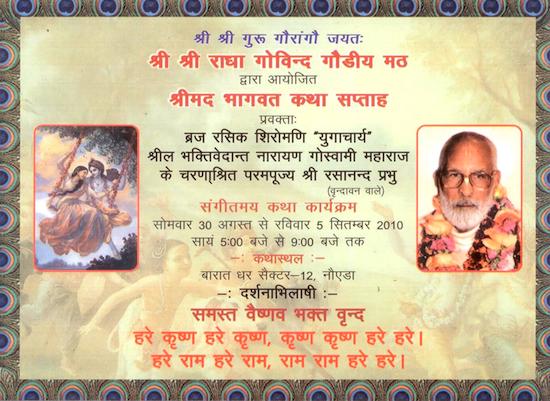 Jaya Srila Gurudeva !